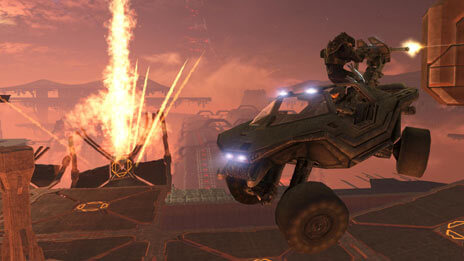 (Spoiler Alert) I have to get out of here.  This planet is falling apart and if I don't act quickly I'm going down with it.  I jump into the nearest vehicle and tear away.  Things are exploding everywhere, and I narrowly avoid death many times.  After five minutes I begin to wonder when this will end, I must be close; I can't keep going like this for much longer.  Suddenly out of nowhere the piece of bridge directly in front of me explodes and my vehicle glides helplessly into oblivion taking me with it.  I respawn , losing several minutes of progress and must, again, plod through what now seems like a terribly loud and obnoxious obstacle course, hoping I don't make another wrong move.  Does this sound familiar?  It's the finale of Halo 3, one of my favorite games with one of my least favorite endings…
"Last semester I was stressed out and had to take multiple exams on the same day. I was interested in looking into some relaxing games. As soon as I had finished all my exams I went to visit Alex, he had to go somewhere so he set up his PS3 for me, and had me try out Flower, a seemingly simple game made by ThatGameCompany…"
Hey everyone, it's Ian at Polian Studios!
We just reached 100 followers on our tumblog, which is a modest amount but a good milestone. I just want to welcome everyone- we really appreciate all of you. :)
If you like what you see here, or if you want to learn more about Polian Studios, visit our main blog for more goodies. We post articles about art, games, and culture weekly, as well as our own art and updates on our own game productions.
We're also on facebook and twitter (I mean, who isn't?)
Hope your winter (or summer for those of you on the other side of the world) is off to a great start!
-Ian @ Polian Studios